If children grew up according to early indications,
We should have nothing but geniuses.
– Goethe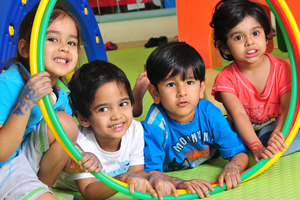 Our Foundation Stage unit offers children the opportunity to develop their personalities, and their likes and dislikes with clear routines and boundaries that aren't restrictive. The activities challenge, stimulate and enhance children's knowledge, but are led by the child's interests and strengths.
Our Foundation Stage team respects the children and their contribution, understands that children should be given time to think and be allowed to make choices and engage and examine consequences. Teaching is not forced, learning through play is crucial – Foundation Stage provides children with a solid foundation in personal, social and emotional skills, which supports children when they start school.
Our Foundation Stage base room is led by our Foundation Stage Supervisor. The Foundation Stage team has been called upon individually to provide the best quality care to your children. We operate the strict ratio of 1:8, ensuring that each member of our team is a key worker to no more than 8 children per day. Your key worker will communicate with you on a daily basis. She will observe and enhance your child's play and learning experience, keeping you informed of progress at every step.