One of the luckiest things that can happen
to you in life is to have a happy childhood.
– Agatha Christie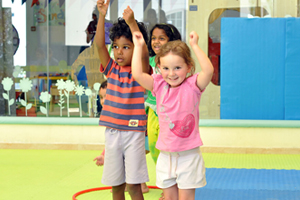 Our First Steps base rooms are created with the utmost care for children who are just getting steady on their feet. While large equipment is available for support, the room also abounds in soft and cozy padding for growing babies.
In our First Steps base room we begin a gentle routine, which reassures little ones as they learn to recognise care patterns, such as meal and rest times. We understand that communication can be complicated at this age, so emphasis is given to visuals, action songs and rhymes to give confidence for those first words. We encourage independence, challenges, friendships and self-discovery.
Our First Steps base room is led by our Senior Nursery Nurse. The First Steps team has been hand-picked and trained to provide the best quality care to your little ones. Your key worker will communicate with you on a daily basis. She will observe and enhance your little ones play and learning experience, keeping you informed of those little achievements along the way.