He who would learn to fly one day must first learn
to stand and walk and run and climb and dance; one cannot fly into flying.
– Friedrich Nietzsche
At Cambridgeshire Nursery, we've created a relaxed, serene, natural play and learning environment that's warm and welcoming for your child. This helps create a sense of belonging and comfort. The nursery has natural daylight throughout the day, which makes it a bright and positive place to learn.
Our Base Rooms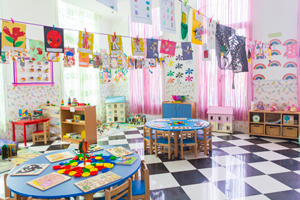 We believe in giving children the freedom to explore and learn in their own way and at their own pace in a bright, clean, clutter-free zone supervised by our ever-observant teachers. All Base Rooms are designed to inspire your child's senses without over-stimulating them. Children can stretch out to actively engage in play allowing for little bones to grow and muscles to develop, all while active learning takes place.
Our Indoor Play-gym
Our Indoor Play-gym is a place that children simply love. The gym room lets your children physically manoeuvre their bodies, stretch and shake out, and feel emotionally better for it. The gym room helps the children develop their gross motor skills and their social skills as they play, exercise and dance. Needless to say, play-gym is their favourite nook at the nursery.
Our Outdoor Campus
The outdoors offers a different, unique learning environment that allows children to engage with nature and to see the changes that they bring. Our nursery garden is a place to sing songs, use big movements, play, explore, touch, see and hear. Fresh air and vitamin D are nature's gifts in abundance, so we encourage children to spend time outdoors as it improves health and lets their imagination blossom.
Our Central Area
Our Central Area is a great place for children to interact with various kinds of toys and gadgets. This open and informal space lets them loose with their imagination as they play with the variety of toys, relax or play with their friends.
Our Waterplay and Sand Play Areas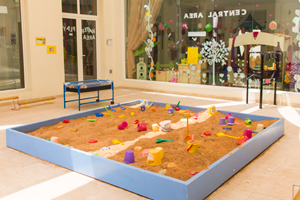 We have created separate areas for children to enjoy playing in the Sand area (all through the year), and Water Play area during the summers. These allow the children to have a well-rounded play-and-learn atmosphere in the nursery.
Our Art and Sensory Zones
Children have infinitely creative and inquisitive minds. We have separately created zones for children to unleash their creativity, be it painting and colouring, music or dance. We also enhance their all-around learning through our sensory exercises which children undergo in our Sensory Rooms.
All the above facilities create a unique environment, in which the children love to spend their time.